---
Developer: Belugerin Games
Artist: AwakenDreams Studio
Composer: Tony Sugianto
Site:
Belugerin
Genre: Point and Click
Size: 8.84 MB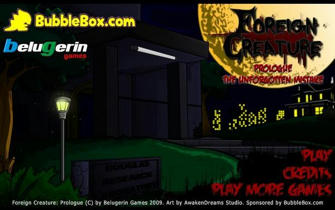 Descriptions:
"Foreign Creature: Prologue, The Unforgotten Mistake" is a point-and-click thriller where you see the world through the eyes of a foreign creature.
This blood-thirsty alien moves through the world unseen, leaving only a trace of blood and horror..
WARNING: RECOMMENDED ONLY TO THOSE AGED 17 OR OLDER.
Game Instructions:
Point-and-click to interact with the environment.
Screenshot:
Links:
BubbleBox
Newgrounds
KOngregate
ArmorGames
Belugerin Games
Walkthrough
Download:
Mediafire