---
Developer: Belugerin Games
Concept: Arief Raditya P
Artist: AwakenDreams Studio
Composer: Tony Sugianto
Site:
Belugerin
Genre: Point and Click
Size: 9.36 MB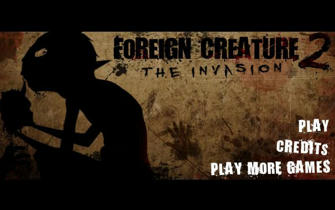 Descriptions:
This is a sequel of Foreign Creature (FC) Prologue The Unforgotten Mistake.
FC2 will reveal the origin of FC. And their main goal is to form a colony on earth by changing the human to become aliens. The aliens will enter and breeding on the body of high rank officials and famous people. The FC can be destroyed at the end of story, but unfortunately there is one FC left inside the body of the president of the most powerful country in the world.
Play the role of a blood-thirsty alien sent to planet Earth to grow stronger and breed an evil army to take back home.
WARNING: RECOMMENDED ONLY TO THOSE AGED 17 OR OLDER.
Game Instructions:
Point-and-click to interact with the environment.
Screenshot:
Link(s):
BubbleBox
BubbleBox
Walkthrough:
Walkthrough
Download:
Mediafire